Feb
7
Kategorie Clubabend | Kommentare deaktiviert für Alfred Bester – Tycoon der Science Fiction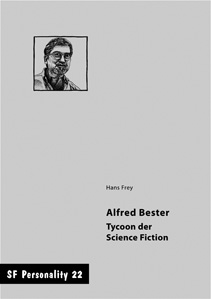 Am Clubabend stellt Hans Frey sein Buch Alfred Bester – Tycoon der Science Fiction vor und erzählt bei einem spannenden Vortrag, was so bemerkenswert an diesem Autor ist.
Alfred Besters (1913 – 1987) relativ schmales, aber überaus ge­wich­tiges SF-Werk ist einzigartig. Mit seinen Roman-Geniestreichen The Demolished Man und The Stars My Destination und Kurz­geschichten wie »Fondly Fahrenheit« schenkte er der internationalen Science Fiction Premiumwerke, die in ihrer Art bis heute unerreicht sind.
Zudem gehört Bester zu den größten Inno­vatoren der SF. Er verhalf der SF nicht nur zu ungeahnten stilistischen Höhen, sondern kreierte auch die Grundlagen für gänzlich neue SF-Subgenres, die erst Jahre nach ihm das Gesicht der modernen SF prägen und dominieren sollten. Zahlreiche Abbildungen, eine umfassende Bibliographie von Hans-Peter Neumann und ein Essay von Michael K. Iwoleit runden den Band ab.
ISBN 978-3-943279-00-9
136 Seiten mit über 60 Abbildungen für 12,90 Euro
Hier gibt es eine Übersicht zu den neuesten Ausgaben der Reihe SF Personality.
Kommentare