Aug
29
Lesung und Gespräch mit Tobias O. Meißner und Marcus Hammerschmitt
Moderation: Hannes Riffel
Science Fiction ist mehr als Literatur. Sie entwickelt sich im Medienverbund: Filme, Comics, Computer- und Rollenspiele transportieren Bilder und Geschichten, die auch die Science-Fiction-Literatur nachhaltig beeinflusst haben. Tobias O. Meißner und Marcus Hammerschmitt geben anhand eigener Texte Einblick in das Wechselverhältnis zwischen literarischer und audiovisueller Kultur und lassen im Gespräch die faszinierendsten Momente einer zunehmend einheitlichen Medienwirklichkeit aufblitzen.
Wann: Dienstag, den 6. September 2011, 20 Uhr
Wo: Brecht-Haus | Chausseestraße 125 | Berlin-Mitte
Eintritt: € 5,– (ermäßigt 3,–)
Aug
11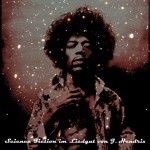 Jimi Hendrix war nicht nur ein Musiker mit außerirdischen Fähigkeiten, er war auch ein großer Science Fiction- und Comic-Fan. So sind zahlreiche seiner Titel von SF beeinflusst, von »Purple Haze« bis »Valleys of Neptune«. Beim Klubabend im August hat uns Wolfgang Both diese Songs vorgestellt und ihren SF-Hintergrund erläutert. Die Zusammenstellung  mit einem exklusiven Booklet, das alle Songtexte und die »SF behind the Lyrics« enthält, wurde am Abend versteigert.
Vielen Dank an Wolfgang für diesen hervorragenden Vortrag! Es war ein toller Abend im Garten des Kulturbunds.