Apr
13
Kategorie Clubabend | Kommentare deaktiviert für Formicula, Tarantula und andere Riesenviecher in klassischen SF-Filmen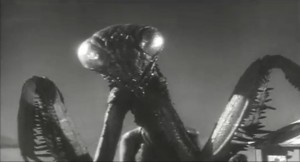 Formicula (Them!,  1954) und Tarantula (1955) dürfte wohl so ziemlich jeder Science-Fiction-Fan kennen. Mutationen infolge von Umwelteinflüssen, atomarer Strahlung oder fehlgeschlagenen wissenschaftlichen Experimenten waren in noch weiteren Filmen zu bestaunen, die in deutschen Kinos meist nicht zu sehen waren. Und die Filme, die in die deutschen Kinos gelangten, zählten nicht unbedingt zu den besten – wie beispielsweise Die Nacht der unheimlichen Bestien (The Killer Shrews, 1959).
Lothar Powitz stellte in seinem heutigen Vortrag zahlreiche Beispiele vor. Obwohl viele Filme aus heutiger Sicht sehr naiv wirken und mit geringem Budget gedreht wurden, gibt es einige, die durch ihre Handlung überzeugen. Relativ gelungen ist der Film The Deadly Mantis (1957; siehe Foto oben links) über eine riesige Gottesanbeterin. In Attack of the Crab Monster (1957) geht es um eine Bedrohung durch gefährliche Riesenkrebse. Und in Rabbits (1972, auch: Night of the Lepus) tauchen sogar höchst mörderische Riesenkaninchen auf – ziemlich absurd, aber sehr unterhaltsam. Doch nicht alle Riesenviecher sind durch fehlgeschlagene Experimente oder radioaktive Strahlung entstanden, manchmal haben auch die Außerirdischen ihre Finger im Spiel, wie zum Beispiel in Killers from Space (1954).
Apr
6
Kategorie Allgemein | Kommentare deaktiviert für Signale – Ein Weltraumabenteuer
Auf dem 70mm-Festivals der Kinemathek Oslo (25. 8. – 3.9.2017), das von unserem Clubmitglied Ingolf Vonau aktiv unterstützt wird, wird auch der Film Signale – Ein Weltraumabenteuer (DDR/Polen 1970) im originalen 70mm-Breitbild-Format aufgeführt.
Zu diesem Anlass wurde ein neuer Trailer produziert, der seit Kurzem in HD-Qualität auf YouTube zu sehen ist.
Weitere Informationen zum Festival gibt es hier:
http://www.cinemateket.no/70mm
http://www.cinemateket.no/70mm/program