Jul
19
Kategorie Allgemein | Kommentare deaktiviert für Herbert W. Franke verstorben
Der grüne Komet war das erste Buch westdeutscher SF, das mir unter der Hand im Phantopia-Klub Ilmenau Mitte der 1970er-Jahre weitergereicht wurde. Es hat mich tief beeindruckt. Die kurzen, poetischen Geschichten waren eine bisher unbekannte Form von SF-Literatur. Kurzgeschichten hatten fünf bis 15 Seiten. Aber auf zwei Seiten eine Geschichte zu erzählen, das war neu. Am meisten beeindruckt hatte mich die Geschichte vom Raumfahrer, der auf der intergalaktischen Akademie auch Gedankenlesen gelernt hatte. Auf der Erde angekommen erschreckten ihn die unausgesprochenen Gedanken des Empfangskomitees. Und an der Haustür drehte er entsetzt um, er wollte die Gedanken seiner Frau nicht lesen, flüchtete in die nächste Rakete. Ich habe gleich mal in das Bändchen geschaut, es ist Geschichte 47 "Willkommen daheim".  Eine außergewöhnliche Fähigkeit kann auch eine Last sein. Mein Exemplar stammt übrigens aus der Bibliothek von Dieter Hasselblatt und enthält viele Anmerkungen von ihm, Überlegungen, ob daraus ein Hörspiel werden könnte. Und Herbert W. Franke gab mir freundlicherweise eine Widmung ins Buch.
Eine Auswahl seiner Geschichten erschien in der DDR in dem Kompass-Band Ein Kyborg namens Joe (1978), es folgten dann einige seiner Romane.
Jetzt hat uns der Autor, Computerartist, Höhlenforscher und Hochschullehrer Herbert W. Franke im hohen Alter von 95 Jahren verlassen. (Wolfgang Both)
Jul
14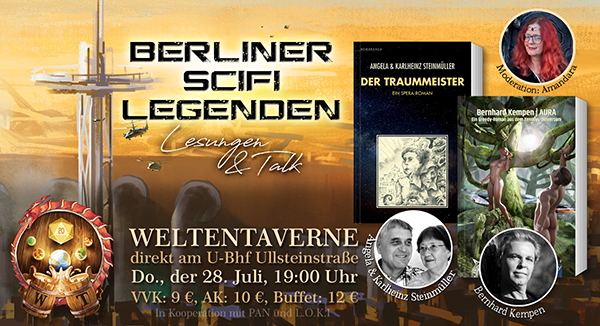 Am Donnerstag, den 28. Juli um 19 Uhr gibt es Lesung und Talk mit Angela & Karlheinz Steinmüller und Bernhard Kempen in der Weltentaverne, direkt am U-Bahnhof Ullsteinstraße: Tempelhofer Damm 232, 12099 Berlin.
Mehr dazu auf: https://weltentaverne.de/
Jul
14
Kategorie Clubabend | Kommentare deaktiviert für Loving the Alien – Außerirdische in der Popmusik
Mit Wolfgang Both untersuchten wir diesmal Songtexte, die sich mit Außerirdischen beschäftigen. Kommen sie zu uns als Invasoren oder als himmlische Retter? In anderen Songs wird »alien« auch als »unglaublich« oder »außergewöhnlich« interpretiert. Und David Bowie fordert in seinem Song »Loving the Alien« Respekt für alle Andersgläubigen.