Jun
12
Kategorie Clubabend | Kommentare deaktiviert für Marsianer!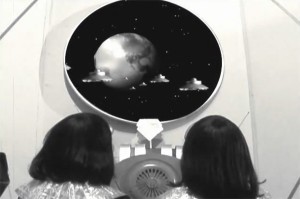 Obwohl heute der Auftakt der Fußball-WM stattgefunden hat, war der Clubabend erstaunlich gut besucht. Was sicher daran lag, dass die Film-Vorträge von Lothar Powitz sehr beliebt und immer sehr unterhaltsam sind. Die meisten Clubmitglieder werden erwartet haben, dass beim Thema »Der Mars im Film – Mars-Spielfilme von 1930 bis heute« eine chronologische Aufzählung inklusive Inhaltsangabe Dutzender Spielfilme erfolgt, aber weit gefehlt: Lothar hat sich zur Aufgabe gestellt, möglichst obskure und seltene Filme herauszusuchen, die möglichst keiner der Clubmitglieder kennt.
Und so war der Auftakt lange Ausschnitte aus dem früher für verschollen gegoltenen Spielfilm Just Imagine von 1930, den man in voller Länge auch auf Youtube finden kann.
Einen längeren Ausschnitt gab es auch aus Red Planet Mars von 1952 zu sehen, der zwar nicht auf dem Mars spielt, der aber sehr interessante politische und religiöse Aspekte hat. Darüber hinaus ging es im Vortrag um obskure Filme wie Devil Girl from Mars (1954), Mars Needs Women (1967), Flight to Mars (1951), Martians Go Home (1989) und Cave Women of Mars (2005).
Bemerkenswert ist die Persiflage Destination Mars, die wie ein Film aus der Mitte der Fünfziger Jahre wirkt, jedoch 2006 produziert wurde. Ein ebenso witziger wie bemerkenswerter Film ist die italienische Produktion Fascisti sv Marte (2005). All die vorgenannten Filme gibt es nur originalsprachlich. Der einzige Film, der wohl auch auf Deutsch erscheinen wird, ist The Last Days on Mars (2013).
Vielen Dank an Lothar, der uns bei seinen interessanten Ausführungen die Mars-Filme erspart hat, die ohnehin die meisten SF-Filmfans kennen und der Kuriositäten aufgespürt hat, auf die sonst die wenigsten gestoßen wären.