Jun
29
Die Amerika-Gedenkbibliothek in Berlin zeigt vom 7. Juli bis 11. August 2016 den »Themenraum Science Fiction«, in Kooperation mit dem Goethe-Institut Polen und der Deutschen Kinemathek. Der Schwerpunkt liegt dabei auf SF-Büchern aus Deutschland und Osteuropa, die man nicht nur anschauen, sondern auch anfassen kann. Die Deutsche Kinemathek wird zum Thema gehörige Filme ausstellen.
Hier gibt es einen Info-Flyer zur Ausstellung.
Tipp: Auf der Homepage zum Themenraum gibt es nicht nur weitere Informationen, sondern auch den direkten Link zur Themenraum-App für Apple und Android.
Jun
9
Kategorie Clubabend | Kommentare deaktiviert für Ein Urgetüm der Science-Fiction: Percy Gregs »Across the Zodiac« (1880)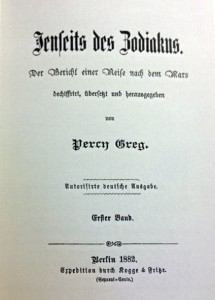 Im ersten Teil seines Vortrages beim heutigen Clubabend verhalf uns Harun Raffael zu einem Überblick über die Raumfahrtliteratur des 19. Jahrhunderts jenseits der bekannten Werke von Edgar Allan Poe (»Das unvergleichliche Abenteuer eines gewissen Hans Pfaall«) und Jules Verne (Reise zum Mond).
Im zweiten Teil ging es dann ganz konkret um ein weiteres Urgetüm der Science Fiction, nämlich Percy Gregs Roman Across the Zodiac (1880; dt. Jenseits des Zodiakus). Es handelt sich dabei um die erste Planetenreise des 19. Jahrhunderts, die man echte Science Fiction nennen kann, die erste Marsfahrt von Menschen im Science-Fiction-Zeitalter und die erste und alleinige Schilderung einer Mars-/Venuszivilisation im 19. Jahrhundert, die gedanklichen Tiefgang bieten kann (vor Kurd Laßwitz' Roman Auf zwei Planeten, 1898). Obendrein die erste interplanetare Liebesgeschichte. Und es ist auch der erste Planetenroman, der ins Deutsche übersetzt wurde. Die Übersetzung erschien nicht nur 1882 auf Deutsch, sondern auch noch ein zweites Mal im Verlag Dieter von Reeken, der seit vielen Jahren auf verdienstvolle Weise Klassiker der phantastischen Literatur neu zugänglich macht. Allerdings ist diese Ausgabe auch schon längst vergriffen und nicht als E-Book verfügbar. Der englische Originaltext allerdings ist bei den großen E-Book-Händlern sogar kostenlos verfügbar.