Sep
12
Kategorie Clubabend | Kommentare deaktiviert für Britische SF-Fernsehserien der 1950er Jahre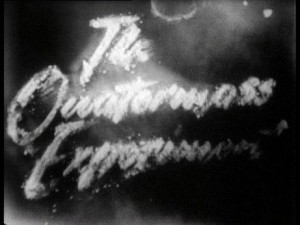 Am heutigen Clubabend gab Lothar Powitz mit vielen Details einen interessanten Überblick über die britischen SF-Serien der 1950er Jahre. Dabei gab es zu erfahren, dass bereits vor dem Zweiten Weltkrieg in den späten 1930er Jahren SF-Themen im britischen Fernsehen zu sehen waren. Leider gibt es aus dieser Zeit keine Aufzeichnungen.
Einen besonderen Schwerpunkt legte Lothar auf die herausragende Serie The Quatermass Experiment, die bereits 1953 von der BBC gesendet wurde und aus der 1955 ein erster Spielfilm entstand. Wir erfuhren von den Unterschieden zwischen Serie, Spielfilm und dem Live-Remake der BBC aus dem Jahr 2005. Dabei spielte der sehr produktive und einflussreiche Drehbuchautor Nigel Kneale keine unwesentliche Rolle.
Zum Abschluss gab es schließlich noch Ausschnitte aus der 1958 entstandenen Fernsehserie The Invisible Man.
Beim nächsten Clubabend wird es dann um britische Serien aus den 1960er Jahren gehen.
Sep
5
Kategorie Allgemein | Kommentare deaktiviert für Gesellschaftsspiel auch für SF-Leser
Das neue Gesellschaftsspiel Willkommen auf Allofall soll durch Crowdfunding finanziert werden. Bei diesem witzigen SF-Spiel müssen sich zwei bis vier Spieler, die auf einem unerforschten Planeten abgestürzt sind, zu einem rettenden Shuttle durchschlagen. Dabei wird es allerlei Anspielungen auf bekannte SF-Bücher, -Filme und -Serien geben. Doch die Entwickler sammeln nicht nur Geld für die Umsetzung des Spiel, Spender dürfen sogar – abhängig von der Höhe der Spende – mitbestimmen, wie die Aliens oder andere Personen oder Gegenstände heißen sollen.
Ausführliche Informationen gibt es auf der Homepage https://www.spiele-offensive.de/Spieleschmiede/Willkommen_auf_Allofall
(Übrigens sehr bemerkenswert: Bei der Spiele-Offensive.de kann man Gesellschafts- und Kartenspiele nicht nur kaufen, sondern auch ausleihen um sie zu testen.)
Sep
5
Kategorie Allgemein, E-Books | Kommentare deaktiviert für SF-Encyclopedia und Englische E-Books
Da inzwischen viele SF-Leser über E-Book-Reader verfügen, hier ein Hinweis:
Bereits seit 2011 ist die von John Clute initiierte Encyclopedia of Science Fiction kostenfrei im Internet verfügbar, und zwar unter folgender Adresse: www.sf-encyclopedia.com.
Parallel dazu hat der Londoner Verlag Gollancz ein Portal für E-Books geschaffen, nämlich www.sfgateway.com, das man auch als Link von der Seite der Encyclopedia erreicht. Dort sind inzwischen hunderte SF-Romane und Erzählungsbände zu finden, zumeist für einen erfreulich geringen Preis. Gollancz bietet hier vor allem die Werke an, die in der Vergangenheit als Buch in diesem Verlag erschienen sind. Und da der Londoner Verlag Herausgeber einer der umfangreichsten europäischen SF-Buchreihen ist, lohnt sich der Besuch der Homepage für jeden, der an älteren SF-Werken interessiert und der englischen Sprache mächtig ist.