Nov
12
Kategorie Clubabend | Kommentare deaktiviert für Amerikanische SF-Fernsehserien der 60er Jahre – Teil 2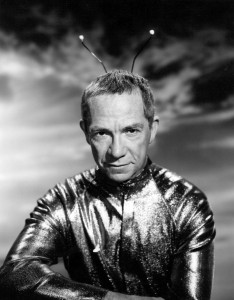 Wie reichhaltig das US-amerikanische Fernsehen an Science-Fiction-Serien in den 60-er Jahren war, konnten die Clubmitglieder am heutigen Abend erfahren. Im zweiten Teil seines Vortrags thematisierte Lothar Powitz diesmal die humoristischen Serien zu Themen wie Aliens, Roboter und Zeitreisen. Dabei gab es auch Ausschnitte zu sehen, die zum Teil echte Raritäten und nicht ohne weiteres zu erwerben sind. Der größte Teil davon ist nie in Deutschland ausgestrahlt worden.
Topper (1953–1955) gehört noch zu den frühen Comedy-Serien aus den 50-er Jahren und basiert auf den Romanen von Thorne Smith, die es auch in deutscher Übersetzung gibt und die bereits 1937 als Spielfilm umgesetzt wurden.
Ebenfalls noch aus den Fünfzigern stammt Johnny Jupiter (1953–1954). Die Außerirdischen in dieser Serie wurden zum Teil mit Handpuppen umgesetzt, wie man hier sehen kann.
In der damals sehr beliebten Comedy-Serie My Favorite Martian (1963–1966) strandet ein Marsianer auf der Erde und kann – ähnlich wie zwanzig Jahre später der beliebte ALF – nicht wieder in seine Heimat zurückkehren. 1999 gab es übrigens einen Spielfilm mit dem Titel Der Onkel vom Mars, der auf der Serie basiert.
Weit bekannter dürfte die Zeichentrickserie Die Jetsons (1962–1963) sein, da sie auch in Deutschland zu sehen war. Hier geht es zwar nicht um Außerirdische, dafür spielt die Serie der Familie Feuerstein-Schöpfer in der Zukunft und präsentiert viele sehr lustige Ideen und Gags. Hier zum Beispiel gibt es ein Video über die erstaunliche Zukunftstechnologie der Jetsons.
Die Roboter-Comedy-Serie My Living Doll (1964–1965) nahm die Idee der Bezaubernden Jeannie vorweg, denn hier lebt eine schöne Roboter-Frau bei einem alleinstehenden Mann, der zwar kein Astronaut ist, aber in einem astronomischen Forschungsinstitut arbeitet.
Auch zwei witzige Zeireiseserien gab es: It's About Time (1966–1967) war eher albern und wenig erfolgreich, The Second Hundred Years (1967–1968) lief sogar mit einigen Folgen damals im deutschen Fernsehen.
Zwei Comedy-Serien, in denen den Protagonisten mit Hilfe »wissenschaftlicher« Methoden Superkräfte verliehen wurden, entstanden sogar gleichzeitig. Captain Nice (1967 mit 15 Episoden) hieß im deutschen Fernsehen Das Geheimnis der Blauen Tropfen und wurde pro Folge leider stark gekürzt. Die etwas bessere Serie Mr. Terrific (1967 mit 17 Episoden, produziert von Jack Arnold) wurde bereits 1970 unter dem Titel Immer wenn er Pillen nahm im deutschen Fernsehen gezeigt und mehrfach wiederholt.
Eine Ausnahmeserie war The Wild Wild West (1965–1969), die zwar im Wilden Westen spielt, aber viele SF-Elemente enthält. Unter dem Titel Verrückter Wilder Westen gab es einen großen Teil der Serie auch in Deutschland zu sehen. Der Kinofilm Wild Wild West (1999) mit Will Smith in der Hauptrolle ist zwar eine Neuverfilmung der Idee, fängt die Stimmung der Serie aber nur bedingt ein.
Wer jetzt neugierig geworden ist, sollte die Titel der Serien mal bei Youtube eingeben, dort gibt es so manches zu entdecken. Viel Spaß!
Nov
10
Am Freitag, 13. November 2015 um 19:30 Uhr, findet im Apple Store in Berlin (Kurfürstendamm 26) die Thriller Night statt. Einer der drei lesenden Autoren ist Andreas Gruber, der in SF-Kreisen vor allem durch seine hervorragenden Kurzgeschichten bekannt ist (»Die letzte Fahrt der Enora Time«).
Viele dürften sich daran erinnern, dass Andreas vor einigen Jahren auch Ehrengast auf unserem »Tag der Phantasie« gewesen ist. Jetzt gibt es die Möglichkeit, ihn wieder zu treffen. Infos zur Veranstaltung gibt es hier.
Alles über Andreas Grubers aktuelle Bücher findet man auf seiner Homepage.