Sep
12
Kategorie Clubabend | Kommentare deaktiviert für Britische SF-Fernsehserien der 1950er Jahre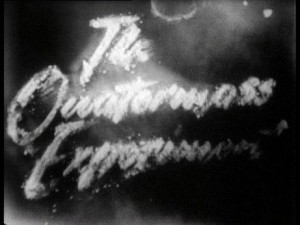 Am heutigen Clubabend gab Lothar Powitz mit vielen Details einen interessanten Überblick über die britischen SF-Serien der 1950er Jahre. Dabei gab es zu erfahren, dass bereits vor dem Zweiten Weltkrieg in den späten 1930er Jahren SF-Themen im britischen Fernsehen zu sehen waren. Leider gibt es aus dieser Zeit keine Aufzeichnungen.
Einen besonderen Schwerpunkt legte Lothar auf die herausragende Serie The Quatermass Experiment, die bereits 1953 von der BBC gesendet wurde und aus der 1955 ein erster Spielfilm entstand. Wir erfuhren von den Unterschieden zwischen Serie, Spielfilm und dem Live-Remake der BBC aus dem Jahr 2005. Dabei spielte der sehr produktive und einflussreiche Drehbuchautor Nigel Kneale keine unwesentliche Rolle.
Zum Abschluss gab es schließlich noch Ausschnitte aus der 1958 entstandenen Fernsehserie The Invisible Man.
Beim nächsten Clubabend wird es dann um britische Serien aus den 1960er Jahren gehen.
Kommentare