Mai
12
Kategorie Clubabend | Kommentare deaktiviert für Ist »Plan 9 from Outer Space« der schlechteste SF-Film aller Zeiten? – Teil 2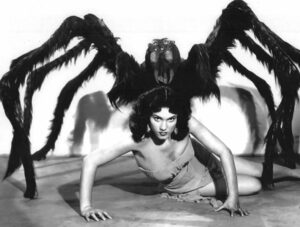 Im ersten Teil des Vortrags von Lothar Powitz (Januar 2019) wurden Filme aus den Jahren 1953 bis 2014 vorgestellt, unter anderem Robot Monster (1953), Space Mutiny (1988) sowie die berühmt-berüchtigte Ron-Hubbard-Verfilmung  Battlefield Earth (2000). Im zweiten Teil schließlich trat Lothar den Beweis an, dass es noch weitaus schlechtete Filme als Plan 9 gab, die aber trotzdem einen gewissen Unterhaltungswert haben, darunter ein Film mit Verbindungen zu Ed Wood und ein Film des »Ed Wood von Connecticut«. Diese Filme waren zum größten Teil in Deutschland nie zu sehen – und das wird wohl auch so bleiben.
Mesa of Lost Women (1953) gibt es zum Beispiel auf YouTube zu sehen.
Bei The Creeping Terror (1963) reicht vermutlich auch der Trailer.
Ein ziemlich seltener Film, der zu den besseren schlechten Monsterfilmen gehört, ist The Horror of Party Beach (1964), den es ebenfalls in voller Länge auf YouTube zu bewundern gibt.
Absurd wird es dann in Rise of the Animals (2011), der in der Reihe »Die schlechtesten Filme aller Zeiten« unter dem Titel Rise of the Animals – Mensch vs. Biest auf TELE 5 lief. Diese Fassung gibt es hier zu sehen.
Kommentare