Mrz
14
Kategorie Clubabend | Kommentare deaktiviert für Luftschifffahrtsdichtung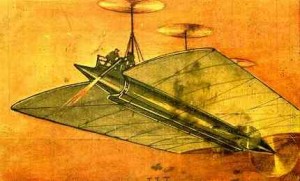 Ein Bildvortrag von Harun Raffael führte den Club an die Wurzeln der Steampunk-Welt. In den 1880er Jahren begannen die Roman-Konstrukteure der Science Fiction die ersten großen Luftfahrzeuge nach dem Prinzip »schwerer als Luft« vom Erdboden aufsteigen zu lassen. Seit dem legendären Robur, dem Eroberer Jules Vernes (1886) beherrschten mächtige, extravagante Helikopter-Luftschiffe den Himmel. Binnen weniger Jahre kämpften ganze Flotten von großen Luftschiffen in immer bizarreren Konstruktionen um die Weltherrschaft.
Jules Vernes Robur glänzt indessen allein durch die großartigen Illustrationen des Luftfahrzeugs Albatros, aus der Feder Leon Benetts. Den Mangel glichen die großen Weltdramen zweier britischer Autoren aus: Douglas Fawcett mit Hartmann the Anarchist (1892) und George Griffith mit Angel of the Revolution (1893) und Outlaws of the Air (1895) waren entschlossen, aus der Luft die bestehende Weltordnung umzuwälzen. Fred T. Jane setzte diese Superluftschiffe ausgiebig ins Bild.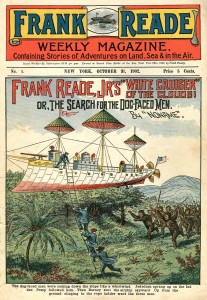 Eine ganz überraschende aktuelle Entdeckung waren die amerikanischen Groschenheft-Abenteuer des Ingenieurs »Frank Reade«, in denen der Autor Luis Senarens von 1879 bis 1898 weit über 100 Wunderfahrzeuge aller Art erfand; darunter seit 1889 reihenweise mächtige Helikopter-Luftschiffe, am Ende gar Weltraumfahrzeuge.
Die Neuauflagen Jules Vernes erbrachten immer neue großartige Bild-Inszenierungen, die mit den Film Robur, Herr der Sieben Kontinente von 1961 (Drehbuch Richard Matheson) das moderne Steampunk-Zeitalter einleiteten. Der Film, und besonders das monströse Luftgefährt, hält sich nur minimal an Vernes Original, sondern scheint Verne mit den Motiven Fawcetts und Griffiths in ein spektakuläres Ganzes zu verschmelzen.
Ein Streifzug durch die Robur- und Frank-Reade-Adaptationen in der modernen Steampunk-Welt rundete den Vortrag zu großem Beifall des Publikums ab.
Kommentare